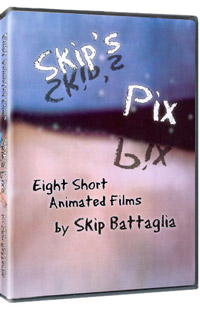 DVD Contents:
"Boccioni's Bike" (1981)
"Parataxis" (1980)
"How the Frog's Eye Sees" (1984)
"Geologic Time" (1989)
"Restlessness" (1994)
"Taki Dom," with Julie Ann Jergens and Dan Pejril (1997)
"Second Nature" (2000)
"More True Shit" (2003)
Skip's Pix
"We must all re-invent filmmaking"
Independent animator Skip Battaglia has been making animated films for 25 years. These eight selected works are handmade, drawn on paper, and fully animated in Battaglia's pulsing "push and pull" style -- colorful, explosive, alternating between extravagant and delicate, and always rhythmic.
From the Futurist inpspired "Boccioni's Bike" to the cartoonish "Second Nature" and the computer-assisted "More True Shit," these films provide invitations to new ways of seeing and working in the graphic arts in motion. Battaglia provides commentary version of all films, including insights to the production and aestheics of these animations.
These exciting and different films give Skip Battaglia great pleasure, as they will any animation enthusiast. This disc will surely be an important part of any animation lover's library.
$24.95
Buy your copy through the Animatus Store
WARNING! Not all material is appropriate for children. this collection features adult content and is intended for mature audiences only. There are no dancing bunnies in these films. Some content has animated nudity. Thes animated short films have not been rated.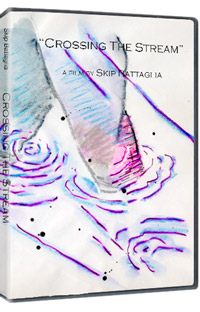 "Crossing The Stream"
Skip Battaglia / USA / 04:00
Experimental/Abstract Animation
Ink on paper, Pastel on paper, Pencil on paper
Crossing the Stream
A Film by Skip Battaglia
About work. About consciousness. A mediation on water, and the animation of water. A poem in the shape of a stream. For Bruce Baillie.
"Best Animation": independent film category. ASIFA-East (NewYork, USA)
2nd Place and cash award: Sarah Lawrence Experimental Film Festival, Sarah Lawrence College, Bronxville NY, USA
Director's Citation Black Maria Film Festival
Buffalo – Niagara Film Festival
Ann Arbor Film Festival, Ann Arbor, Michigan
Kalamazoo Animation Film Festival (KAFI), Kalamazoo, Michigan
Rooftop Films and Rural Route Film Festivals, New York
Melbourne International Animation Festival, AUSTRALIA
Australian International Animation Festival, AUSTRALIA
New Zealand Film Festival, NEW ZEALAND
Taiwan International Animation Festival(TIAF), Taipei, TAIWAN
London International Animation Festival, London, ENGLAND
$14.95
Buy your copy through the Animatus Store