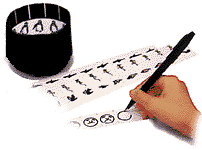 What is a Zoetrope?
The zoetrope is an animation toy that works on the theory of persistance of vision. A series of consecutive drawings are made on a strip of paper and placed within the drum of the zoetrope. The artist spins the drum and looks through the slots on the outside to see their drawings come to life.

Here's what Dealmond's "Blinking Eye" looked like as a zoetrope strip:



For this website, we scanned some student zoetropes and used them to create GIF animation. Enjoy!